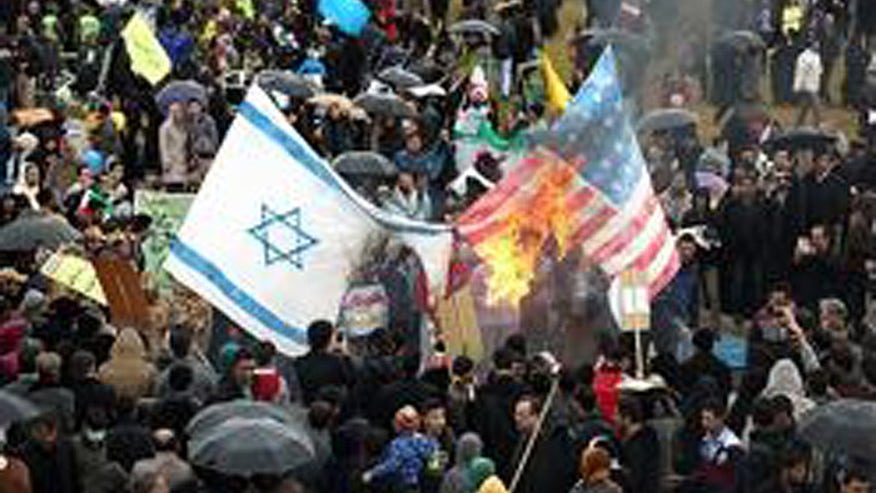 The Feb. 11 event marked Iran's overthrow of the Shah, and featured anti-American and anti-Israel sentiments. (MEMRI)
Just weeks before Secretary of State John Kerry held new nuclear talks with Iran's foreign minister in Geneva, Iranians were hanging Kerry's boss in effigy at a huge Tehran-sponsored rally marking the Islamic Revolution's 36
th
anniversary, an event that critics say underscores the absurdity of the ongoing diplomatic effort.
The U.S. and Iran are trying to reach a final nuclear agreement by a March 31 deadline against a backdrop of ongoing anti-American hatred in the Islamic republic. Photos posted by the Middle East Media Research Institute this week show Iranians marching in front of a display depicting President Obama hanging from a gallows and carrying signs of Kerry, portrayed as a devious fox.
Hundreds of thousands of Iranians took part in the Feb. 11 Revolution Day, which commemorates the 1979 overthrow of the U.S.-assisted Shah of Iran. The Iranians, as they have in past, chanted, "Death to America" and "Death to Israel." They also burned and trampled an American flag.
"The Iranians on the one hand want to get as many concessions as they can from America during the nuclear talks but on the other hand they are not ready to give up their anti-Americanism."
- Ali Alfoneh, Foundation for Defense of Democracies
MEMRI said other photos from the rally show Iranians waving posters of Obama looking like Pinocchio. (CONTINUED)
FULL ARTICLE HERE:
Iran hangs Obama in effigy even as it negotiates nuclear deal with US | Fox News