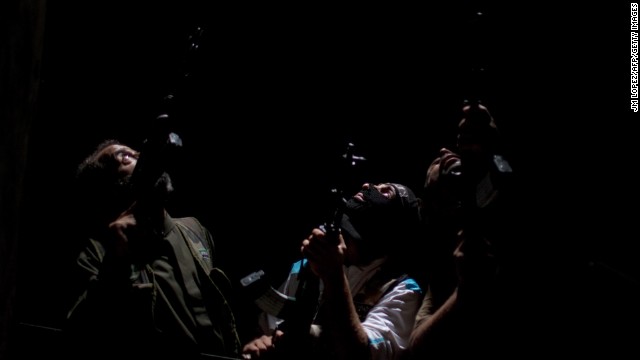 Rebel fighters inspect a stairwell amid fighting against Syrian government forces on Thursday, September 19, in the Saif al-Dawla district of Aleppo, Syria. More than 100,000 people reportedly have been killed in Syria since a popular uprising spiraled into a civil war in 2011. Russia and the United States have agreed on a plan to eliminate Syria's chemical weapons stockpile. The plan came about after a deadly attack in August outside Damascus that the West has accused the Syrian regime of being behind. Click through to view the most compelling images taken since the start of the conflict:
The Islamic State of Iraq and Syria says democracy conflicts with Islamic teachings

It says rebels it ousted from Azaz, Syria, were cooperating with Westerners

The Syrian National Coalition says ISIS "no longer fights the Assad regime"
Istanbul (CNN) -- Al Qaeda-linked militants justified their takeover of a strategic opposition-held town near the Syrian border with Turkey by accusing the Syrian rebels who held it of being pro-democracy traitors who cooperated with Western officials like U.S. Sen. John McCain............
FULL ARTICLE HERE: Al Qaeda-linked group in Syria denounces pro-democracy rebels - CNN.com