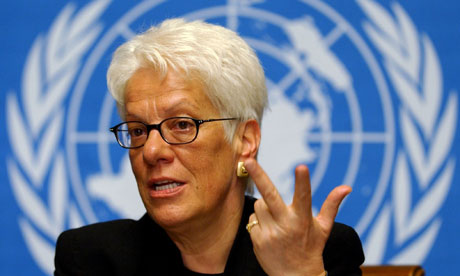 Carla Del Ponte, the former war crimes prosecutor who put Balkan warlords and political leaders behind bars, is to be investigated over claims she allowed the use of bullying and bribing of witnesses, or tainted evidence.
Judges at the UN war crimes tribunal for the former Yugoslavia in The Hague today ordered an independent inquiry into the practices of Del Ponte and two prominent serving prosecutors, Hildegard Ürtz-Retzlaff and Daniel Saxon, after complaints from witnesses that they had been harassed, paid, mistreated and their evidence tampered with.
It is the first time in the tribunal's 17 years in operation that top prosecutors have faced potential contempt of court rulings..............
FULL ARTICLE: Carla Del Ponte investigated over illegal evidence | Law | The Guardian