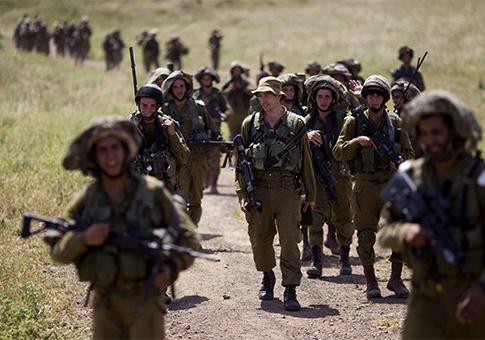 Israeli soldiers in Golan Heights / AP
Iranian officials are believed to be encouraging the Syrian army, Palestinians, and its terror proxy Hezbollah to launch an attack on the Golan Heights, Israeli territory that borders war-torn Syria.
Iran responded to cables from the United States and Russia over the weekend by saying that Syrian forces aligned with President Bashar al-Assad have been instructed to immediately retaliate against Israel, according to Israeli news site Ynet, which translated a report first published in a Hezbollah-aligned Lebanese newspaper.
The instructions followed Israeli strikes on Syrian weapons facilities that contained Iranian-made weapons waiting to be shipped to Hezbollah forces in Lebanon..........
FULL REPORT HERE: Iran urges war on Israel's northern front | Washington Free Beacon