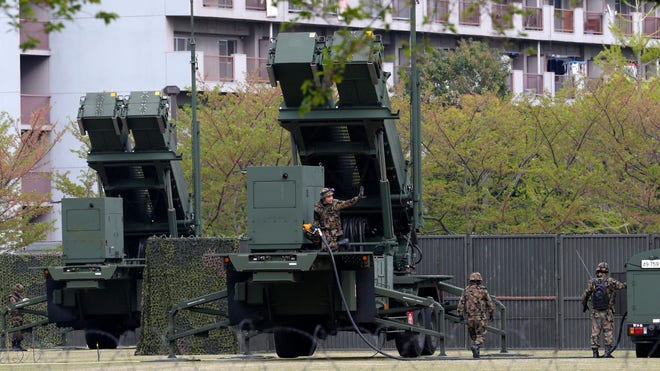 April 12, 2013: Japanese Self Defense Forces personnel refuel a PAC-3 missile interceptor, deployed at the compound of Japan's Defense Ministry amid a tense situation over a possible missile launch by North Korea in Tokyo.

(AP)
North Korea reportedly warned Japan that Tokyo would be the first target if Pyongyang decides to play its nuclear card.
The warning reportedly is in response to Tokyo's standing orders to destroy any missile heading toward Japan, according to Korean Central News Agency. Japan has deployed PAC-3 missile interceptor units around Tokyo to protect its capital and is taking North Korea's rhetoric seriously.
"We are doing all we can to protect the safety of our nation," chief Cabinet spokesman Yoshihide Suga said, though he and Ministry of Defense officials refused to confirm the reports about the naval alert, saying they do not want to "show their cards" to North Korea......
FULL ARTICLE: North Korea reportedly warns Japan it would target Tokyo first | Fox News