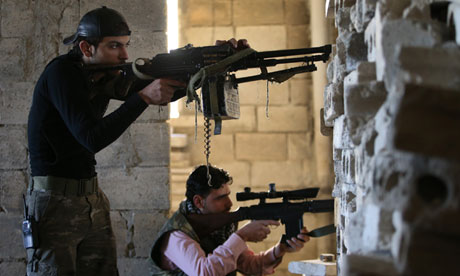 Syrian rebels taking on the Assad-Iran-Hezbollah-Mosco

w Alliance
Iran and Hezbollah have built a 50,000-strong parallel force in Syria to help prolong the life of the Assad regime and to maintain their influence after his fall, Israel's military intelligence chief has claimed.
Major General Aviv Kochavi said Iran intended to double the size of this Syrian "people's army", which he claimed was being trained by Hezbollah fighters and funded by Tehran, to bolster a depleted and demoralised Syrian army.
Kochavi, the director of military intelligence in the Israel defence forces (IDF), also said Assad's troops had readied chemical weapons but so far had not been given the order for them to be used.....
FULL ARTICLE

:

Iran and Hezbollah 'have built 50,000-strong force to help Syrian regime' | World news | guardian.co.uk