Seventeen members of his family have been arrested, but Yahya Hawwa still sings – and Syrian protesters have made his voice their own. Omar Shahid talks to the irrepressible voice of a revolution.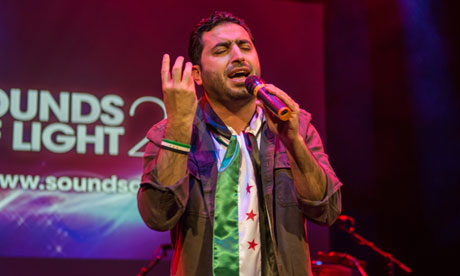 by

Omar Shahid
Sunday 17 February 2013
The Guardian
----
Yahya Hawwa was five when his father and uncle were killed in front of him in Hama, Syria, in 1982. This was the era of Bashar al-Assad's father, Hafez, whose forces are believed to have massacred 20,000–40,000 Syrian citizens. The memory left an indelible scar on Hawwa – now 36 and dubbed the "singer of the Syrian revolution".
It is a title that comes at a wretched price: 17 members of Hawwa's family were arrested late last year; one was killed, and until recently Hawwa was on the ministry of the interior's "wanted" list. "Before the start of the revolution, all the things I sung about were either for children or spiritual songs," he says from his home in Amman, Jordan, where he has lived for several years. "It was not until the Syrian revolution kicked off that I felt great pressure to sing about it."................
FULL ARTICLE HERE: http://www.guardian.co.uk/music/2013/feb/17/yahya-hawwa-voice-syrian-revolution