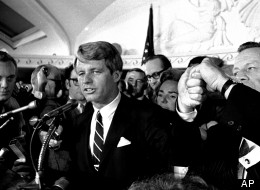 Nina Rhodes-Hughes, a key witness to the Robert F. Kennedy assassination at the Ambassador Hotel in 1968, is making bombshell claims in a CNN interview, suggesting that convicted murderer Sirhan Sirhan didn't act alone.
"What has to come out is that there was another shooter to my right," Rhodes-Hughes, who was feet away from RFK in a hotel service pantry during the crime, told CNN. "The truth has got to be told. No more cover-ups."
Rhodes-Hughes, now 78, claims the FBI "twisted" her statements to investigators after the incident in order to come up with the conclusion that she had only heard 8 shots, an account that was used as evidence that Sirhan carried out the act without an accomplice.