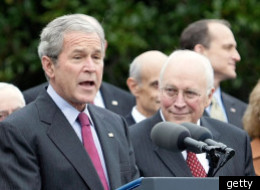 WASHINGTON -- A six-year-old memo from within the George W.

Bush administration that came to light this week acknowledges that White House-approved interrogation techniques amounted to "war crimes." The memo's release has called attention to what has changed since President Barack Obama took office, but it also raises questions about what hasn't.
The Bush White House tried to destroy every copy of the memo, written by then-State Department counselor Philip Zelikow. Zelikow examined tactics like waterboarding -- which simulates drowning -- and concluded that there was no way they were legal, domestically or internationally.
"We are unaware of any precedent in World War II, the Korean War, the Vietnam War, or any subsequent conflict for authorized, systematic interrogation practices similar to those in question here," Zelikow wrote. The memo has been obtained by George Washington University's National Security Archive and Wired's Spencer Ackerman.
But while Democrats are using the memo as evidence of a new post-torture era under Obama, human rights activists, civil libertarians and opponents of excessive secrecy say they see many ways in which the country's moral compass is still askew -- and in some ways even more so than before.
"If your baseline is the Bush years, it's night and day," said Tom Blanton, director of the National Security Archive. "If your baselines are a set of first principles, as the ACLU calls for, or as us openness advocates call for, then your situation is: Is the glass half full or the glass half empty?"