Arise Honors Earth's Female Caretakers
by Georgianne Neinaber
The opening scene of the documentary Arise is stark. Jane Goodall's call to arms in declaring that "it's time for women to rise up, own their power, and heal the planet" floats in an obsidian sky as a yellow-orange full moon casts her glow, recalling the great Roman goddess Diana, Queen of Heaven, patron of animals and goddess of the hunt. Like Diana, the women of Arise are called by destiny to protect the earth while at the same time utilizing earth's bounty for the nourishment of life and community. Living on the earth responsibly requires partnership. One must replenish what one uses in a spirit of respect and stewardship. There is no longer room on the planet for narcissistic caretakers whose self-absorption and greed is sucking the life from our planet. Is a feminine approach to leadership, stewardship, and commerce the answer? Idanha filmmakers Lori Joyce and Candice Orlando make a powerful case that this is so.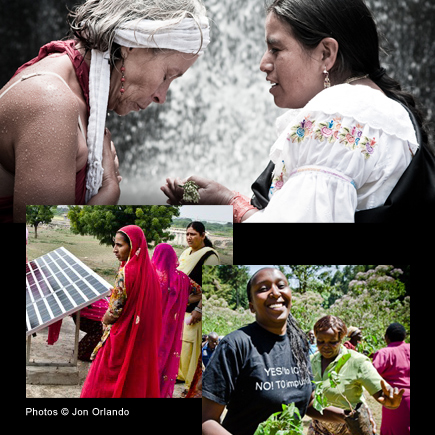 Image Courtesy of Idanha Films and Jon Orlando
Narrated by actress and environmental activist Daryl Hannah, Arise is both a documentary and an ethnographic study of women from around the world who share a profound intellectual and spiritual understanding of what it takes to live in harmony with the environment. In a twist, "the environment" is not always a pristine rainforest, African savanna, or glacial lake. Broken and abandoned urban landscapes and neighborhood food "dead zones" can provide fertile ground for food bounty with the vision and tenacity of women leaders like Beverly Grant.