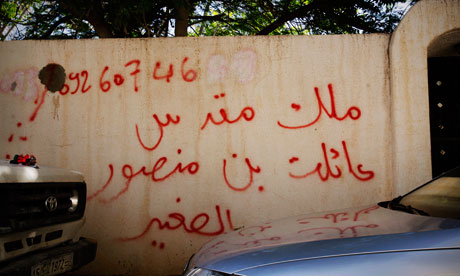 Dhahra Street in central Tripoli isn't much to look at. On one side is the state-owned Mellitah oil company – a Gaddafi-era concrete eyesore in green and white stripes. Opposite is an unprepossessing three-storey block of faded stucco where Wissam al-Aqari's little grocer's shop occupies the corner unit.
Legend has it that Mussolini once drove down Dhahra during colonial times. But what catches the eye these days is an Arabic sentence scrawled in red paint across a wall next to the shop: "This building is the rightful property and inheritance of Muhammed al-Jafairya,"
Such claims of ownership can be seen all over Tripoli and across the country, alongside triumphant slogans hailing the fall of the man they simply call "the tyrant". And just how the original owners will get back – or be compensated for – the billions worth of lost properties is one of the biggest and toughest questions facing Libya's new rulers.
READ THE FULL ARTICLE HERE: Libyans try to get back property seized by Gaddafi | World news | The Guardian